PSP WEEKLY Bring you 2 slots Leather Watch Box
Views: 1020 Author: Emily Mao Publish Time: 2016-12-07 Origin: Pink Store Package Co.,Ltd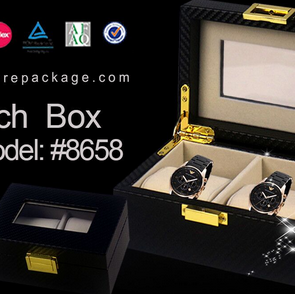 Dear Readers,

A lot of people are chasing leather watches boxes. It's maybe because the living standard of people is becoming higher and higher.Watch Box is not only to pack and protect the watch. It's also stand a fashion trend. leather Watch box can increase the watch quality and image, also increase people's taste.
With people's sense of time becoming stronger and stronger. More and more watches are needed. Most of people especially men like their watches very much, and very attached to their watch babies.So, to buy a watch box to store and organize their watch boxes are becomging popular. The following are some suggestions to protect your leather watch box.
1.Please keep leather watch box in the good ventilation environment.
2.Please do not make leather watch box directly exposed to the sun.
3.Please clear out the water of leather watch box, and make it air dried when leather watch box geting wet.
4.Please wipe the stain with cloth, when leather watch box get stained.
5.Please do not makeleather watch box be pressed, or it will be get mis-shaped.
6.Please keep leather watch box from chemicals like acid,soda and sault.
One of Pink Store Package Co.,Ltd's main product is watch box.Watches boxes are divided according to their volumn. Single watches boxes, double watches watch box, 3 watches watch box, 4 watches watch box,5watches watch box,6 watches watch box,9 watches watch box,10 watches watch box,12 watches watch box,20 watches watch box....
This week, PSP weekly bring you one 2-slot watch box. Hope you will be like it.
-Carbon fiber leather
-MDF 9mm
-quality velvet for linning and pillow
-arclyc glass window
-quality hinge and quality lock
-watch box for 2 watches

Should you take interest, please feel free to contact us.
Thansk!
Emily