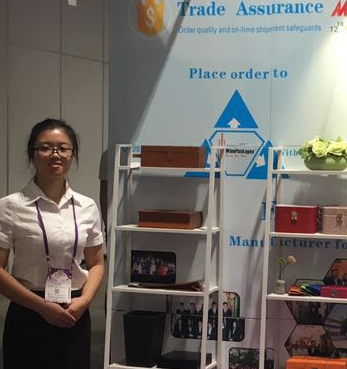 Pink Store Package Co.,Ltd is attending 2016 Guangdong and Macao Branded Products Fair

2016 Guangdong and Macao Branded Products Fair have been taken a end at the end of July. Our team have been presenting new products during this Fair.Here are some photos from our booth to get to know more about Pink Store Package Co.,ltd.


Following is the original report for this Fair


GMBPF attracts a large number of residents and tourists.
Jointly organised by the Macao Trade and Investment Promotion Institute and Department of Commerce of Guangdong Province, the three-day Guangdong & Macao Branded Products Fair 2016 ( GMBPF) concluded today. While visitors were taken back to the old times at the "Vintage Street" and experienced the fun-filled atmosphere in the three main exhibition areas, exhibitors also achieved desirable sales this year. During the three-day event, a total of 83,000 visitor arrivals were recorded and 67 business matching sessions were conducted.
67 Business Matching Sessions Conducted in Three Days
Over the three days, 67 business matching sessions were conducted, by enterprises including those from Guangdong (Jieyang, Huizhou and Maoming), Hong Kong, Macao and Indonesia. Products discussed in the sessions included famous food and beverages, daily necessities, clothing and accessories, toys, cultural and creative handicrafts. Held concurrently at the same venue were the Macau Characteristics Finance and Economic Forum to introduce the current financial structure and changes and the advantages of financial leasing in China, and how to integrate Macao's advantages to develop a characteristic financial industry with the support of financial leasing was also discussed in the forum.
Newly added Indonesian Products Exhibition and Sales Area embraces a distinctive style.

Residents Praise Indonesian Handmade Products for their Distinctive Style
As the last day of the event fell on Sunday, many residents seized the chance to buy their favourite products. A local resident Mr. Kou, who is "loyal fan" of GMBPF and been to the event every year, said that he had spent over MOP10,000 last year and had set no limit on his spending for this year and would consider buying any product only if he deems it suitable. He further said that although it was a bit the Venetian Macao Resort Hotel was a bit far away, the event was still a successful one with so many featured products, and he would continue to support it. Another frequent visitor, also a local resident, Miss Yau said that she loves the handmade soaps, genuine leather handbags and ethnic clothing sold and displayed at the Indonesian Products Exhibition and Sales Area very much because of their natural material, unique design and reasonable prices. She also praised the Indonesian enterprises for their hospitality.
Booming Sales Recorded in Three Main Exhibition Areas, Exhibitors Gain more than "Expected"
Qing Yuan Qingnong Electronic Business Co. Ltd. participated in the fair for the first time and successfully concluded a co-operation agreement with Tak Sang Meat Industries with the aid of the Organisers. In this agreement, they would import the famous Qing Yuan chicken to the Macao market. General Manager of Key Customers Department Mr. Pan Can Guang said that their chickens are bred in mountain areas, fed on herbs, listen to light music and drink spring water, and their meat is treated by "instant freezing method" in temperatures of -200 Celsius degrees, which can better preserve the nutrition and texture, so their products were very popular so 300 Qing Yuan chickens were sold very soon during the fair. Guangzhou South Hotel Articles Co. Ltd. also successfully established collaboration with a hotel supplier in Macao. Project Manager of Wan Heng Hong Equipment Of Kitchen Limited, Anita Yip, noted that the cleaning products provided by the co-operating partner have a better price/performance ratio and more product options, so they decided to act as their agent and planned to sell and exhibit their products for household cleaners in exhibitions next year.
Shareholder of Amazing Life (Macau) Development Co. Ltd. Priscilla Mok noted that the GMBPF saw a larger visitor flow compared to the previous year which gave them a better chance to promote their products. She further said that people are placing more and more emphasis on health and many visitors would personally try their high-end health promotion products, such as an electrically heated mattress and physical therapy beds., on the spot, and if they thought their products were effective, they didn't mind spending money on it, and during the event, many old and new customers flocked to the fair to buy their products because of the promotional offers.
Jilsi Toys is an Indonesian company specialising in handmade "rocking" horses. The representative of Jilsi Toys, Linfkan Pantow, said that it is a rare opportunity for them to develop an overseas market through participating in GMBPF; they had brought only a small number of products as an "experiment", however, 90% of their products were sold on the second day due to their good quality and distinctive features and this was really "unexpected", and therefore they are actively looking for suitable wholesalers and retailers for future co-operation in order to open up the Macao market.
Identify with the Impact of the Two Events for Larger Visitor Flow
To promote Macao as a service platform for commercial and trade co-operation between China and Portuguese speaking countries and the establishment of "three centres", the Organisers set up the Portuguese food products area once again in the centre of the Macao Products Exhibition and Sales Area. Representative for Branco Carvalho Neto, Raquel Carvalho Neto noted that they wanted to gain an understanding of the consumers' needs via this platform in order to adjust their marketing strategies and improve their product packaging. She continued that GMBPF 2016 and Macao Franchise Expo 2016 (MFE), which were held concurrently at the same venue, would help drive the visitor flow and enable them to get to know wider group of consumers.

Local cultural and creative products well received by visitors.
Local Original Gifts and Souvenirs Find Favour with Guangdong, Macao and Indonesian Enterprises
To promote the development of the local cultural and creative industry, the Organisers not only set up the "Youth Cultural and Creative Products Exhibition Area" but also gave top priority to cultural and creative enterprises to promote their business. Sales Director of Soi Fong International Trading Company Limited, Wong Chi Ian, noted that the fair achieved remarkable results, which helped increase the reputation of the cultural and creative industry and allowed it to explore business opportunities. She further said that their sponges, such as gloves, shower sponge, designed within the company, were the favourites of many visitors and so their sales volume was better than expected because their products are beautifully designed and can be used as a decoration of in the shower, , as well as having a distinctive Macao style, catching the attention of local hotels, Guangdong and Indonesian enterprises who took the initiative to approach them to order some of their products.
An Online Platform to Extend Promotion
Despite the conclusion of the GMBPF, the Organisers will be uploading all information and photos related to the exhibitors and exhibits onto the official GMBPF website on www.guangdongmacaofair.com – an online platform for long-term promotion purposes – for interested parties to find information about their favourite merchants and products. The result of the lucky draw will also be uploaded on to the website.